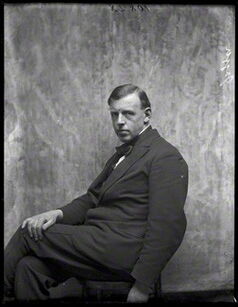 Charles Sargeant Jagger (December 17, 1885 - November 16, 1934) was a British sculptor who served in World War I. Because of his involvement with the war, he based many of his works off of the theme of war. In the Stoneheart Trilogy, Jagger is said to have been the maker of several statues in London; he was the creator of the Royal Artillery Memorial and its for bronze sculptures, which include the Gunner and the Officer.
Biography
Edit
Charles Sargeant Jagger was born in 1885 in Kilnhurst. He began preparing for his career as a sculptor at age fourteen, when he became an apprentice metal engraver. He studied at Sheffield School of Art, and then he moved to London to attend the Royal College of Art.
Jagger served in the First World War. He was present at both Gallipoli and the Western Front, and he was wounded several times in combat. His experiences in the war were inspirations for the detail and truthfulness in the art that he made later on.
(Awaiting completion)