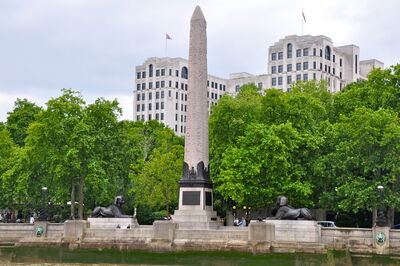 Cleopatra's Needle is a setting in the Stoneheart Trilogy. It is a monument along the River Thames, found at the Victoria Embankment and not far from the Palace of Westminster. It is the home of the Sphinxes, two enigmatic statues that will help somebody if their riddle can be answered.
The obelisk that gives the area Cleopatra's Needle its name was originally built around 1450 BC by Pharaoh Thutmose III. It is made of red granite, it stands 21 meters (68 feet) high, and it is covered in Egyptian hieroglyphics. The obelisk is actually one of three, the other two being located in the cities of Paris and New York.
The obelisk was presented to the United Kingdom as a gift from Egypt in 1819. However, due to financial reasons, the obelisk was not moved to London until 1877. When it arrived, it was erected by the River Thames, where it is still located today.
Next to the obelisk are two large bronze sphinxes. Each sphinx's platform has the inscription "The good god, Thuthmosis III given life" on it, written in hieroglyphics. Ironically, although the sphinxes should be facing away from the obelisk in order to protect it, they both lie facing the obelisk.
In 1917, in a German bombing during the First World War, one of the sphinxes was struck with and damaged by shrapnel from a bomb that landed nearby. The shrapnel holes have never been repaired in the sphinx.
Role In Plot
Edit
George and the Gunner go to Cleopatra's Needle to speak with the Sphinxes about how he can stop the taints from trying to kill him. Edie follows them here in order to ask them what a glint is.
(Awaiting completion; needs serious work)
The Sphinxes do not like when the area is referred to as Cleopatra's Needle, although the reason is never explicitly given. The Gunner sarcastically remarks that is due to the fact that London is colder than Egypt, and this cold weather makes the Sphinxes angry.
The Sphinxes mention that the obelisk is a dedication to Thutmose II, despite its common name being Cleopatra's Needle. However, the obelisk was originally built in honor of Thutmose III, another pharaoh.