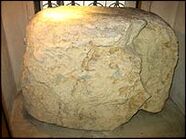 The London Stone is a historic piece of limestone currently located on Cannon Street in the city of London. In the Stoneheart Trilogy, it is the force that has put a curse upon several people in the city, such as the Walker. It also seems to watch over the balance between spits and taints, as well as the relationship between makers and made. When George accidentally misuses his gift as a maker, the Stone sends him into the un-London.
There is little known about the origins of the London Stone. It may have served as a milestone used by the ancient Romans. The first record of its existence in the city is thought to have been made by John Stow in his Survey of London, published in 1598.
The Stone may have been damaged during the Great Fire of London. It was moved around Cannon Street several times in history.
(Awaiting completion)
Role In Plot
Edit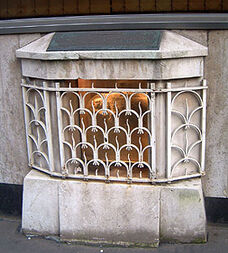 The London Stone is some mysterious force that watches over the relationship between the makers and the made in the city of London. When makers misuse their abilities, such as in the case of the Walker, the Stone curses them.
After George broke the dragon's head off of the Natural History Museum, he was told to make amends at the Stone in order to return to his own London.
(Awaiting completion)