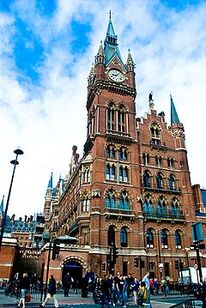 St. Pancras station is a railway terminus in the city of London. It is a setting in the Stoneheart Trilogy. In the books, it is the home of a number of gargoyles, including the cat gargoyle Spout.
St. Pancras station was designed by William Henry Barlow. It was first opened to the public in 1868. The station underwent renovations in the 2000s.
(Awaiting completion)
Role In plot
Edit
St. Pancras station is the roosting place of many gargoyles. For this reason, it is dangerous to go near the station.