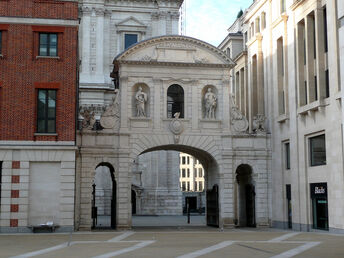 Temple Bar is the area in the city of London where a medieval barrier was set up. It is the site of a gateway that connects Fleet Street and Strand. The original seventeenth century gateway was taken down in the late nineteenth century and replaced with a newer gate. In the Stoneheart Trilogy, it is the home of the plinth of the Temple Bar Dragon, a taint that guards the area.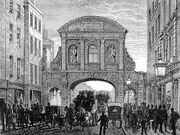 The original Temple Bar gateway was built between 1669 and 1672 by designer Christopher Wren. This gate stayed in the area until the late nineteenth century, when it was demolished in place of a newer gate. This gate, designed by Horace Jones, was made in memory of the original Temple Bar, closely resembling it. Along with the gate,
a dragon statue
was placed on a decorated pedestal nearby. This dragon, given the misleading title 
Griffin
, was made by sculptor Charles Bell Birch.
Role In Plot
Edit
Temple Bar is the place where George and Edie run to when they realize that taints are in the area. However, they mistakenly run towards the Temple Bar Dragon, who proceeds to attack the children. The Dragon ignites the area with its fire, trapping the children in a column of flames. After the Dragon slashes Geroge's arm and brands him as a maker, the Gunner appears and wrestles with the dragon. This gives George and Edie the chance to escape from Temple Bar.