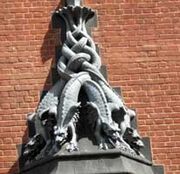 The salamanders are a group of taints in the Stoneheart Trilogy. George runs from these statues after escaping the Natural History Museum in London. Along with the pterodactyl, they are some of the first taints that George encounters in Stoneheart.
Appearance
Edit
The salamanders are a group of three lizardlike statues with their tails twined together. They are found attached to an elaborate drainpipe located not far from the Natural History Museum,
Role In Plot
Edit
The salamanders come to life after George stops to speak to a man in the street. The man cannot see the salamanders move, which confuses George. The taints then start to walk and they chase George to the Royal Artillery Memorial. They arrive at the memorial, and all three of the salamanders are shot and destroyed by the Gunner, after the spit first kills the pterodactyl.